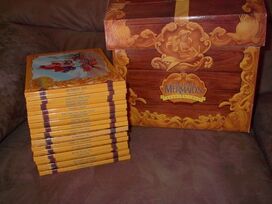 The Little Mermaid's Treasure Chest is a set of children's books published by Disney Books By Mail that ran from 1990 to 1992. It was a series of 24 volumes that focused on Ariel, the main character of the franchise. It also featured other characters including Sebastian the crab, Scuttle the seagull, Flounder and his twin sister Sandy, and Scales the musical dragon.
Stories
Ad blocker interference detected!
Wikia is a free-to-use site that makes money from advertising. We have a modified experience for viewers using ad blockers

Wikia is not accessible if you've made further modifications. Remove the custom ad blocker rule(s) and the page will load as expected.