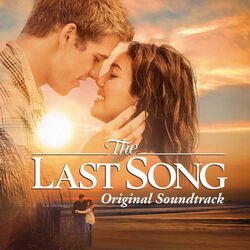 "When I Look at You", song by Miley Cyrus, was originally from her EP The Time of Our Lives released August 31, 2009, but was included on the soundtrack because it fit the movie well. The song is used in the background of the film's trailer.
At the launch of his album Cradlesong on June 30, 2009, Rob Thomas told the New York Daily News, "My buddy Adam Shankman, who just directed Miley's movie, called me on the phone the other day and was like, 'You have to write a song for this movie.'... I would definitely write a song for her [Cyrus]." In the end, however, Thomas was unable to contribute music to The Last Song, citing "scheduling problems" as the reason.
The soundtrack features a track by Casey McPherson, frontman of the band Alpha Rev which signed with Disney's Hollywood Records in August 2008. Variety magazine's Anthony D'Alessandro notes that the use of soundtracks as "launch pads" for new Disney artists is a common practice. "A Different Side of Me" by Allstar Weekend was also included on the soundtrack. They are a group newly signed to Hollywood Records after winning the N.B.T. Competition through the Disney Channel. The soundtrack was released in the U.S. on March 23, 2010. Though not featured on soundtrack, Snow Patrol's 2006 single "Shut Your Eyes" and Feist's "I Feel It All" also appear in the film . The soundtrack had a major increase in sales in the week of the DVD release. The soundtrack peaked at #104 on the Billboard 200 albums chart.
Track listing
Edit
Standard Edition
Tyrant (written by Andrew Brown, Zachary Filkins, Ryan Tedder) - OneRepublic
Bring on the Comets (written by Mark Guidry, Mark Palgy, Craig Pfunder) - VHS Or Beta
Setting Sun (written by Finlay Beaton, Stuart Macleod, Joel Quartermain) - Eskimo Joe
When I Look at You (written by John Shanks, Hillary Lindsey) - Miley Cyrus
Brooklyn Blurs (written by Alex Wong, Devon Copley) - The Paper Raincoat
Can You Tell (written by Milo Bonacci, Alexandra Lawn, Wesley Miles, John Pike, Mathieu Santos, Rebecca Zeller) - Ra Ra Riot
Down the Line (written by José González) - José González
Each Coming Night (written by Sam Beam) - Iron & Wine
I Hope You Find It (written by Jeffrey Steele, Steven Robson) - Miley Cyrus
She Will Be Loved (written by Adam Levine, James Valentine) - Maroon 5
New Morning (written by Casey McPherson) - Alpha Rev
Broke Down Hearted Wonderland (written by Edwin McCain, Maia Sharp, Pete Riley, Kevin Kinney) - Edwin McCain
A Different Side of Me (written by Nathan Darmody, Zachary Porter, Thomas Norris) - Allstar Weekend
No Matter What (written by Sydnee Duran, Dave Bassett) - Valora
Heart of Stone (written by Sune Rose Wagner) - The Raveonettes
Steve's Theme (written by Aaron Zigman) - Aaron Zigman
I Feel it All (written by Feist) - Feist