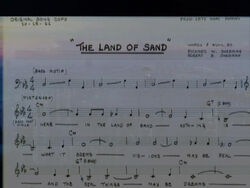 "The Land of Sand" is a deleted song from Mary Poppins. It was replaced by "Stay Awake" in the final cut, and later rewritten as "Trust in Me" for the animated version of The Jungle Book.
Lyrics
Here in the land of sand
Nothing is what it seems
Visions may be real
And the real things may be dreams
Secrets of all the ages hide in these sands of time
Here where the story of man began
All be wise and beware
What you see may not be there
Dreams can slip through your hand
In the land of sand
Ad blocker interference detected!
Wikia is a free-to-use site that makes money from advertising. We have a modified experience for viewers using ad blockers

Wikia is not accessible if you've made further modifications. Remove the custom ad blocker rule(s) and the page will load as expected.