The King
Background information
Feature films
Cars
Short films
Television programs
Video games
Cars: The Video Game
Disney INFINITY
Park attractions
Portrayed by
Portrayed by
Animators
Voice
Richard Petty
Performance model
1970 Plymouth Superbird
Designer
Inspiration
Honors and awards
Character information
Full name
Strip Weathers
Other names
Old Daddy Rabbit
Old Man
Mr. The King
Personality
Kind, caring, level-headed, mature, well-meaning, respectful, grateful, good-hearted
Appearance
Blue car, with the Dinoco sponsor and number "43", brown eyes and a giant, tall blue spoiler on his trunk
Occupation
Former Piston Cup Racecar
Alignment
Good
Affiliations
Goal
Home
Relatives
Lynda Weathers (wife)
Pets
Allies
Rotor Turbosky, Tex Dinoco, Luke Pettlework, Chief Dinoco, Lightning McQueen, Doc Hudson, Mater, Dale Earnhardt, Jr., Dinoco Girls
Minions
Enemies
Chick Hicks, Lightning McQueen (formerly)
Likes
Racing, winning in first place, his championship
Dislikes
Chick Hicks' cheating, McQueen's arrogance (apparently)
Powers and abilities
Piston Cup driving
Speed
Engines
Racing
Possessions
Weapons
Fate
Retires from racing
Quote
To Tex: "Well, Tex, you've been good to me all these years. It's the least I could do."
To McQueen: "This ain't a one-man deal, kid. You need to wise up and get yourself a good crew chief and a good team."
[Source]
Lynda Weathers: "Whatever happens, you're a winner to me, you old daddy rabbit."
Strip Weathers: "Thanks, dear. Wouldn't be nothing without you."
—Strip Weathers and Lynda Weathers
Strip "The King" Weathers is a race car in the film Cars.
Cars
""The King," Strip Weathers, has seen it all. From his humble beginnings on the Piston Cup circuit, to the glitzy sponsorship and media attention he has today. This seven time Piston Cup Champion is the winningest racecar in all of Piston Cup history. He's loved every second of his racing career, but truth be told, The King is ready for a slower pace. He's looking forward to more time with his queen, Mrs. The King."[1]
"After a spectacular crash The King looked pretty beat up, but rest assured he was back on his tires in no time flat! When you've been racing and crashing as long as he has, you can handle a few scrapes and bruises."[1]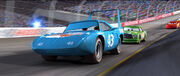 He tied for first place with
Lightning McQueen
and
Chick Hicks
in the Piston Cup final, so a tie-breaking race was scheduled in
California
. He races for the team "
Dinoco
". The King attempts to offer McQueen a dime's worth of free advice, saying it is the crew, not the racer, that wins races. But Lightning was too distracted by his Dinoco fantasy to pay attention. At the race in
Los Angeles
, The King led for most of the time until Lightning used a trick from
Doc Hudson
to get onto the track after Chick rammed him onto the infield during the final lap. After getting frustrated that he wasn't going to win, Chick hits The King and sent him flying through the air above the infield and get damaged upon contact of the ground. McQueen, with a moment of conscience and is fearful that Weathers will be doomed to the same fate as Doc, helped him make it to the finish line, much to everyone's amazement. At the end of the film, he's all repaired and visits Doc's new museum.
Cars: The Video Game
In
Cars: The Video Game
, The King returns as a playable character. While retired, he is still an unlockable character for Piston Cup racing. As a result, Darrell Cartrip's commentary lines include "It sure is nice to have Weathers back on the track!" He is only playable in the Piston Cup races in Arcade and Vs. Modes. Strangely, he doesn't appear in Story Mode. However, he was mentioned in the cut-scene for Palm Mile Speedway where Darrell Cartrip says that it's now gonna be Lightning vs. Chick with the King retired.
Disney INFINITY
In Disney INFINITY, The King appears many times as a racing opponent. He also appears in some cut-scenes, including one where he talks to Luigi.
Personality
Unlike other racers, such as Lightning McQueen and Chick Hicks, The King is very kind and cares for others.
Trivia
Strip is based on a 1970 Plymouth Superbird with a 426 ci hemi (about seven liters) engine, the same model Richard Petty drove. The Superbird was a heavily modified version of the Plymouth Road Runner, specifically designed for stock car racing. Its radical design was later banned by NASCAR. The King features slightly bigger wheels and a shortened wheelbase - an edit only for the film to make the car more visually appealing.
The King's crash seems to be a re-creation of Petty's real-life Daytona 500 accident in 1988 with the exception that it was not caused by a collision with another driver as in the movie. The bit which McQueen assists him to the finish line seems to be based on the 1976 incident, albeit by the pit crew.
In the Danish version, The King is voiced by nine-time 24 Hours of Le Mans winner Tom Kristensen.
In the Finnish version, he is voiced by Finnish two-time Formula One World Champion Mika Häkkinen.
In the German version, he is voiced by Austrian three-time Formula One World Champion Niki Lauda.
Quotes
The King: "Hey, buddy. You're one gutsy racer."
Lightning McQueen: "Oh, hey, Mr. The King."
The King: "You got more talent in one lug nut than a lot of cars has got in their whole body."
Lightning McQueen: "Really? Oh, that..."
The King: "But you're stupid."
Lightning McQueen: "Excuse me?"
The King: "This ain't a one-man deal, kid. You need to wise up and get yourself a good crew chief and a good team. You ain't gonna win unless you got good folks behind you, (his voice dwindles as McQueen looks towards the Dinoco stage) and you let them do their job, like they should. Like I tell the boys at the shop..."
Lightning McQueen: (to himself) "A good team. Yeah..."
The King: "If you figure that out you just gonna be OK."
Lightning McQueen: "Oh, (clears his throat) yeah, that... That is spectacular advice. Thank you, Mr. The King."
—The King and Lightning McQueen on their first meeting
Junior: "Hey, King! Good luck in your last race. You've sure been an inspiration to me."
The King: "Thanks, Junior. Appreciate it."
Mrs. The King: "Hey, be careful out there, OK?"
The King: "Yeah, man."
—The King, Mrs. The King and Junior, before The King's last race
The King: "What are you doin', kid?"
Lightning McQueen: "I think The King should finish his last race."
The King: "You just gave up the Piston Cup, you know that?"
Lightning McQueen: "Ah. This grumpy old racecar I know once told me somethin'. It's just an empty cup."
—The King and Lightning McQueen, as McQueen pushes The King to the finish line
Gallery
References
| | |
| --- | --- |
| | This page uses Creative Commons Licensed content from the Pixar Wiki. The list of authors can be seen in the page revision history (view authors). As with Disney Wiki, the text of the Pixar Wiki is available under the CC-BY-SA license. |