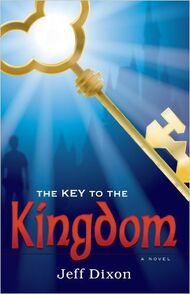 The Key to the Kingdom Series
is a book series written by pastor and former
Walt Disney World
cast member,
Jeff Dixon
. It's a factual fiction, for it combines fact and fiction. These books are not authorized, licensed, or endorsed by
the Walt Disney Company
 or any affiliate.
Each of these epic dramas carry the reader across the state of Florida to discover details that most people have missed. Each discovery and revelation will have the reader wondering if they are reading fact or fiction. In a quickening pace, the characters find themselves on a collision course with an unthinkable outcome! Fans of Walt Disney will love the history and tourists will find a travel guide that takes them on a trip most guests never get to take.
Book series
The Key to the Kingdom
Unlocking the Kingdom
Storming the Kingdom
Terror in the Kingdom
Gallery