Ad blocker interference detected!
Wikia is a free-to-use site that makes money from advertising. We have a modified experience for viewers using ad blockers

Wikia is not accessible if you've made further modifications. Remove the custom ad blocker rule(s) and the page will load as expected.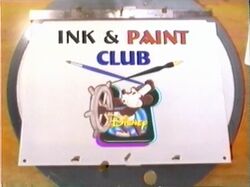 This article is about the Disney Channel show. For the nightclub seen in Who Framed Roger Rabbit, see Ink and Paint Club.
The Ink and Paint Club was an hour-long television series on the Disney Channel in 1997, featuring various classic Disney cartoon shorts, which was shown as part of Vault Disney. These episodes would usually consist of six or seven cartoon shorts each, all with some kind of theme.
Episode list
#
Subject
Featured shorts
1
Award Winners
2
Mickey Landmarks
3
Sports Goofy
4
Disney Firsts
5
Chip 'N Dale
6
All Figaro All the Time
7
Storybook Silly Symphonies
8
Bugged
9
Woodlore & Humphrey
10
Mickey, Donald & Goofy: Friends to the End
11
The Many Lives of Pegleg Pete
12
The Many Loves of Pluto
13
Silly Symphonies Get Wet
14
Early Donald
15
Jiminy Cricket Is No Fool

I'm No Fool as a Pedestrian (1956)
I'm No Fool With a Bicycle (1956)
You and Your Five Senses (1955)
You and Your Senses of Smell and Taste (1955)
You the Human Animal (1955)
I'm No Fool in Water (1957)

16
Escapees From the Ark
17
Pluto's Rival Butch
18
A Bunch of Silly Symphonies
19
The Big Bad Wolves
20
Huey, Dewey & Louie
21
Goin' to the Birds
22
Classic Mickey
23
The "Other" Mice
24
Symphonic Silly Symphonies
25
Goofy Goofs Around
26
Classic Donald
27
Meow! The Disney Cats
28
Early Mickey
29
Goin' Outside with the Silly Symphonies
30
'50s Donald
31
The Unseen Disney
32
Goin' to the Dogs
33
In the Nursery with the Silly Symphonies
34
Donald's Nephews
35
More Sports Goofy
36
Award Winners II
37
Mickey's Pal, Pluto
38
Infested Silly Symphonies
39
Minnie Mouse
40
Crazy Over Daisy
41
Jiminy Cricket: You and Yours

You and Your Sense of Touch (1955)
You and Your Food (1955)
I'm No Fool With Electricity (1973)
I'm No Fool With Fire (1956)
You and Your Ears (1956)
I'm No Fool Having Fun (1957)

42
Goin' to the Zoo
43
On Vacation
44
Musical Mickey
45
More Donald
46
Disney Dreams
47
The Goofy Clan
48
The Return of Chip an' Dale
49
More Storybook Silly Symphonies
50
Storyteller Mickey
51
Triple Trouble
52
Rah! Rah! Disney Goes Athletic
53
Silly Symphonies at the Zoo
54
More Goin' to the Birds
55
Oooh! Scary!
56
Wartime Disney
57
From Zero To Hero
58
Silly Symphonies Go to the Birds
59
Clarabelle and Horace
60
The Mickey Boogie
External links
| | |
| --- | --- |
| | This page uses content from the English Wikipedia. The article or pieces of the original article was at The Ink and Paint Club (TV series). The list of authors can be seen in the page history. As with Disney Wiki, the text of Wikipedia is available under the GNU Free Documentation License. |