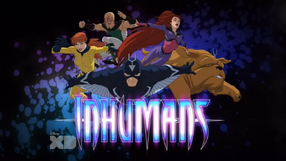 The Inhumans are a race of super-powered beings, who live apart from humanity.
The Inhumans were created by Stan Lee and Jack Kirby.
Terrigenisis
Terrigenisis is the process in which an Inhuman is given their powers. It involves a Terrigen Bomb releasing the Terrigen Mist from its crystal, which in turn activates the powers of an Inhuman or Inhumans in the Terrigen Chamber.
The process of power giving is random, leading to some unfortunate cases where the Terrigen Mist deforms an Inhuman, by warping their appearance, alongside a new power.
Members
Diviner
Afterlife
Inhuman Outbreak
Contained Inhumans
Ad blocker interference detected!
Wikia is a free-to-use site that makes money from advertising. We have a modified experience for viewers using ad blockers

Wikia is not accessible if you've made further modifications. Remove the custom ad blocker rule(s) and the page will load as expected.