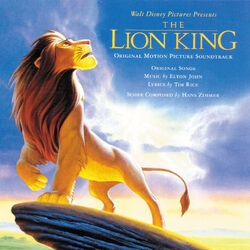 "The Hyenas" is an instrumental score composed by Hans Zimmer with African vocals by Lebo M and his South African choir heard on The Lion King soundtrack and its Special Edition soundtrack.
Background
This score is heard during the Elephant Graveyard scene as the hyenas appear and chase down Simba and Nala. The section toward the end is from "Mufasa Dies," where Simba is being chased by the hyenas out of the Pride Lands, with the final chord coming from "Elephant Graveyard" as Scar watches Mufasa lead the cubs away.
Trivia
"The Hyenas" was cut and edited for the non-English soundtrack. However, the complete score can still be heard in two separate parts, "Elephant Graveyard" and "Mufasa Dies."[1][2]
This score is heard only on non-English versions of the soundtrack.[3]
References