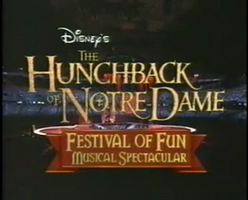 The Hunchback of Notre Dame: Festival of Fun Musical
is a
1996
television concert aired on June 6, 1996. It was aired for the release of the 34th Disney animated feature,
The Hunchback of Notre Dame
. It had famous performers singing their most recognized songs for Disney. It was set in the New Orleans Superdome and the French Quarter in
New Orleans, Louisiana
.
Songs
Someday My Prince Will Come (instrumental)
Heigh-Ho (instrumental)
I've Got No Strings (instrumental)
Bare Necessities (instrumental)
Bibbidi-Bobbidi-Boo (instrumental)
I'm Late (instrumental)
You Can Fly (instrumental)
Love is a Song (instrumental)
Bella Notte (instrumental)
Once Upon a Dream (instrumental)
The Sorcerer's Apprentice (instrumental)
Pink Elephants on Parade (instrumental)
Cruella De Vil (song) (instrumental)
Kiss the Girl (instrumental)
Part of Your World (instrumental)
Under the Sea (performed by Samuel E. Wright)
Part of Your World (performed by Jodi Benson)
Arabian Nights (instrumental)
Prince Ali (instrumental)
A Whole New World (performed by Peabo Bryson and Regina Belle)
Beauty and the Beast (song) (instrumental)
Belle (song) (instrumental)
Belle (song) (performed by Paige O'Hara)
Something There (performed by Paige O'Hara)
Beauty and the Beast (song) (performed by Paige O'Hara)
Be Our Guest (instrumental and performed by chorus)
Steady as the Beating Drum (performed by chorus)
Just Around the Riverbend (instrumental)
Colors of the Wind (performed by Judy Kuhn)
I Just Can't Wait to Be King (performed by chorus)
Hakuna Matata (performed by chorus)
Can You Feel the Love Tonight (performed by chorus)
Circle of Life (performed by Carmen Twilie and Lebo M)
Premiere of Someday (performed by All-4-One)
A Dream is a Wish Your Heart Makes (performed by All-4-One, Regina Belle and Peabo Bryson)
The Second Star to the Right (performed by Judy Kuhn, Paige OHara and Jodi Benson)
When You Wish Upon a Star (performed by Samuel E. Wright, Jodi Benson, Peabo Bryson, Regina Belle, Paige O'Hara, Judy Kuhn, Carmen Twilie, Lebo M, All-4-One and chorus)