"
The Hole...Lotta Nuthin'
" is an episode of
Wander Over Yonder
.
Plot
When Wander uses his finger to plug up a black hole, he trusts Sylvia to keep it plugged until she returns with something to seal it. But doing so causes a lot of trouble for him, from getting hungry, tired and having to put up with Lord Hater's insults.
Trivia
This is the third time part of the episode title appears, with a the other part appearing seconds later ("The Epic Quest of Unfathomable Difficulty!!!", "The Gift 2: The Giftening").
At one point, Sylvia pulls out Genie's Lamp.
When Lord Hater teases Wander, at one point he repeatedly says "Mustard or Mayo?" while holding two sandwiches in the same manner as Wander did in "The Picnic".
The scene where Lord Hater's mechanical arm is tested alludes to a scene from Star Wars Episode V: The Empire Strikes Back.
Cast
Gallery
v - e - d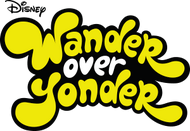 Organizations/Groups
Lord Hater's Army • Insurgent Generals • Wander and Sylvia • Bounty Hunters • Lord Dominator's Army • Galactic Villain Leaderboard
Locations
Lord Hater's Spaceship • Binglebopolopolis • Doomstone • Baaaaa-halla • Phunulon • Ballzeria • Buster • Doom Arena • Planet Ziziks • Flendar • Lord Dominatior's Spaceship • Arachnomorph Homeworld