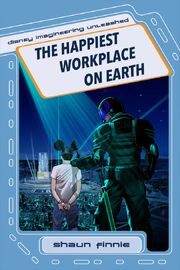 The Happiest Workplace On Earth
is a thriller novel by Shaun Finnie. It is set in an alternate future where
Walt Disney
stayed alive long enough to ensure that his
Epcot
really did become a community of tomorrow, not just another theme park.
When Jack Rothman and his family finally get the long-awaited invitation to become residents of Epcot City, they think their dreams have come true. But they find, instead, a culture based on "What Would Walt Do" taken to the extreme, with fascist security and anarchic rebels battling for supremacy, and the Rothmans caught in the middle.
The Happiest Workplace on Earth is the first novel in the Imagineering Unleashed series. Each book in the series is set in an alternate vision of the Disney theme parks where the wildest plans that Disney's Imagineers have designed over the years didn't die on the drawing board but were actually built. From Discovery Bay and the Mineral King Ski Resort to the incredible Epcot City, the dreams of Disney Imagineering come to life in these novels in a unique blend of history and action.