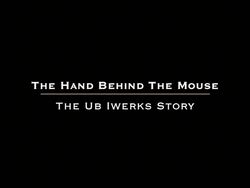 The Hand Behind the Mouse: The Ub Iwerks Story is a documentary film that was released in 1999, followed by a book written by Leslie Iwerks and John Kenworthy in 2001. The documentary, created by Iwerks' granddaughter Leslie Iwerks, was released on VHS in September 2001 and later included on the The Adventures of Oswald the Lucky Rabbit DVD set of the Walt Disney Treasures, Wave VII series.
Plot
This documentary highlights the cinematic accomplishments of Ub Iwerks, a forgotten genius overshadowed by the towering presence of Walt Disney. The details include his early life in Missouri, his teaming up with Disney, and the creation of his most famous work: Mickey Mouse. The film provides an in-depth look into the world of American animation during the '20s and '30s, including some rarely seen animated gems. After Iwerks left Disney to set up his own company, he became one of the key innovators of animation and helped train a future generation of cartoon masters, including Chuck Jones.
Cast
Ad blocker interference detected!
Wikia is a free-to-use site that makes money from advertising. We have a modified experience for viewers using ad blockers

Wikia is not accessible if you've made further modifications. Remove the custom ad blocker rule(s) and the page will load as expected.