"
The Great Outdoors
" (sung by the
Five Bear Rugs
,
Henry
, and
Melvin, Buff & Max
) is the opening song of the
Country Bear Vacation Hoedown
.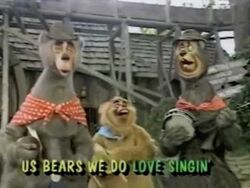 It was also featured in the Disneyland Fun Sing-Along Songs video, where it was sung by Shaker, Wendell and Liver Lips as they played with the children on Tom Sawyer Island.
Lyrics
If you've just been wishin
'bout goin' fishin'
and you're still on the shore,
Grab your camping gear,
and meet us right here,
we got all kinds of fun in store.
It's time for a vacation
for some rest and relaxation.
Forget your cares and join us
bears in the great outdoors.

Ain't nothing like the great
outdoors to ease your soul.
Ain't nothing like the great
outdoors to keep you from growing old.
If your mind's been hazy and you're
feeling lazy and down on all fours,
Then join us bears and suck up
some air in the great outdoors.

Us bears we do love
nature and tramping
through the woods.
Us bears we do love
fishing every hour if we could.
Us bears we do love
singing in country harmony.
And if y'all won't join us,
we'll chase you up a tree!
Ad blocker interference detected!
Wikia is a free-to-use site that makes money from advertising. We have a modified experience for viewers using ad blockers

Wikia is not accessible if you've made further modifications. Remove the custom ad blocker rule(s) and the page will load as expected.