The Gift
is an episode of
Wander Over Yonder
.
Episode Summary
Edit
On a wintry planet, Sylvia is taking a nap, when a box wrapped in a red bow gets her attention. Wander pops out of the box in excitement about "today". Sylvia joins the excitement. Wander explains to her that once every 365 Yuletidian cycles, a cluster of interstellar temporal neutrinos collides with a passing dimensional space vortex, resulting in a massive chronal jet stream, and they use it to travel through the universe in one day by delivering presents to everyone they've met the past season, of their lives.
After delivering presents to practically every incidental character introduced on the show, Sylvia is relieved that their work is done, but Wander then points out they need to deliver gifts to the Watchdogs and Lord Hater, much to Sylvia's annoyance. As they walk onto Hater's ship, Wander tells her that if Hater gets a present, his heart might grow three sizes and he'll be able to spread cheer throughout the galaxy. He also shares with her a Slarnian greeting in a rather unintelligible gibberish, which roughly translates to: "A little nice makes naughty think twice".
The two arrive just in time to see Hater complain to his empty conference room about his army's incompetence. Wander directs a lost Watchdog named Tim to the wrong conference room, and then sneaks a present to him, telling him to read a tag. When he does so, Tim's eyeball becomes a red heart and starts moaning, "Happy..." 
After Sylvia reluctantly agrees with Wander's plan and also giving him the gibberish, the two set out delivering presents to the Watchdogs, one by one, causing them to fall prone to them. Meanwhile, Hater and Peepers have already noticed what happened to Tim, the latter pointing out the gift made him happy. As they talk, Wander and Sylvia toss presents to the Watchdogs from the vents, making them happy too. Hater and Peepers see this and run into a room, and Hater announces they need to stop Wander and Sylvia. An alarm starts to go off, and Wander orders Sylvia to find and secure Hater while he takes care of the Watchdogs.
Not very far, Peepers and two other Watchdogs, Pete and Teddy, have already split up. Wander manages to give a diamond ring to Teddy, but while giving Pete's gift, he leaves the ribbon undone, so he fixes it before Pete opens it and gains tap shoes. Immediately though, Peepers comes upon the action and Wander presents his gift, causing him to run away. As he bangs on the door to where Hater is hiding, Wander is shocked he'll ruin the surprise, and quickly tosses the gift to him.
Hater, who is still hiding, ends up backing into Sylvia, who has somewhat joined him. After he runs away screaming, Wander frantically tells Sylvia that Hater is leaving and if he doesn't get his gift, he won't be able to spread cheer, so they have to go after him. As they chase after Hater, Sylvia utters, "I hate today."
They reach a log cabin back on the snowy planet from the beginning of the episode, just as Hater locked himself in. Wander however, manages to get Sylvia and himself inside by stuffing themselves down the chimney. As they start to approach Hater, Sylvia thinks he doesn't want a gift, but Wander points out he's just being polite. A bunch of Watchdogs trap them in a rope at the last second though, and as Hater congratulates them, Wander and Sylvia escape the trap and Wander leaves Hater's present in place.
As the two float away, Sylvia wonders how the Watchdogs could be so awesome, and Wander points out that this was because he printed the words "From Lord Hater" on the other side of the tags the gifts had, so they did something right for him as he wanted. Wander points out that Hater is realizing this now, and hears him scream "NO!" from the cabin. Seconds later, Sylvia suddenly realizes something, and they hear Hater shout "YES!" in turn, followed by him popping their orbble.
As the Watchdogs march past Wander and Sylvia, Hater thanks them for the gift, which he will now use them to conquer the universe, starting with a village decorated for Christmas. Wander tears up, sad that his plan has failed, but Sylvia cheers him up by telling him that she has the perfect gift for him. She cues something, which surprises Wander but shocks Hater.
In the village, the Watchdogs are suddenly getting into the holiday spirit by helping various ornament citizens decorate and give presents. Hater tries to stop this by destroying all the decorations, but the ornaments gather around him and bury him from site. Wander tells Sylvia he knew that being kind to others makes them kind back, and they exchange the alien gibberish in turn.
The final scene of the episode has Wander and Sylvia floating towards a star in the night sky.
End Credits
Edit
Hater is still trapped under the dog-pile of ornament-shaped creatures. At one point, he asks them to "stop touching my butt!"
Wander: He's gonna be so excited!
Lord of Illumination: Soooooooo whatsinthebox?
Sylvia: (wearing sleigh bells) I just don't get why I have to wear these.
Wander: 'Cause they go so well with these! (takes out a pair or reindeer antlers and puts them on Sylvia's head)
Wander: It's not just about giving someone a present, it's about giving someone the perfect present! Observe.
Wander
: If we give Hater the perfect gift, maybe his heart will grow three sizes, and he'll spread cheer throughout the galaxy.
Sylvia: Or maybe he'll try to destroy us...again.
Wander
: Perfect. He's overwhelmed with joy! A little nice makes naughty think –
Sylvia: Twice. Slarnian. (She does the gibberish.) Yeah, I know. But if we're caught, we don't get to deliver gifts. We get to die. So, just promise me we'll be careful. Deal?
Wander: (hugs her) Deal!
Background Information
Edit
Continuity
Edit
Allusions
Edit
Production Information
Edit
International premieresEdit
References
Edit
v - e - d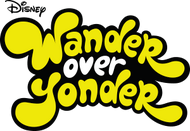 Organizations/Groups
Lord Hater's Army • Insurgent Generals • Wander and Sylvia • Bounty Hunters • Lord Dominator's Army • Galactic Villain Leaderboard
Locations
Lord Hater's Spaceship • Binglebopolopolis • Doomstone • Baaaaa-halla • Phunulon • Ballzeria • Buster • Doom Arena • Planet Ziziks • Flendar • Lord Dominatior's Spaceship • Arachnomorph Homeworld