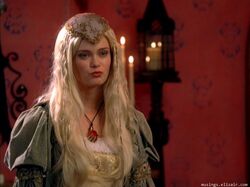 The Gift is a magical jewel in Return to Halloweentown. It was created by three Cromwells so only three Cromwells can destroy it. It had been handed down to many Cromwells, even Splendora (Agatha Cromwell), and she knows the Dominion want to use her with the gift, for its powers to have all of Halloweentown into the Gift's user's slaves and Agatha didn't want that for the Cromwell's magic is to be used for good. In the end Marnie, Dylan, and Gwen make everyone believe they destroyed the gift when it in facts goes to Dylan hidden inside one of his textbooks.
Ad blocker interference detected!
Wikia is a free-to-use site that makes money from advertising. We have a modified experience for viewers using ad blockers

Wikia is not accessible if you've made further modifications. Remove the custom ad blocker rule(s) and the page will load as expected.