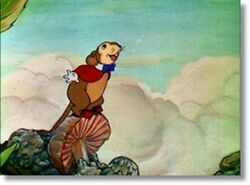 The Flying Mouse is a small mouse in the 1934 Silly Symphony animated short The Flying Mouse. He also makes a cameo appearance in Mickey's Polo Team.
Appearances
The Flying Mouse
In the short, he is a mouse who dreams of having wings and flying with the birds, but finds out that his wish has more consequences than he imagined.
Mickey's Polo Team
The Mouse is seen (without wings) alongside his mother and other Silly Symphonies characters.
Gallery
Ad blocker interference detected!
Wikia is a free-to-use site that makes money from advertising. We have a modified experience for viewers using ad blockers

Wikia is not accessible if you've made further modifications. Remove the custom ad blocker rule(s) and the page will load as expected.