"The Family Reunion" is an episode of Wander Over Yonder.
Plot
Wander and Sylvia hide out from Dominator's forces with Sylvia's family.
Trivia
The galaxy that appears at the beginning of the show's opening theme briefly appears in this episode.
It is revealed that Sylvia left home without informing her family, although it is never explained why.
This is the third episode Wander is actually angry. ("The Box", "The Toddler")
This is the second episode Wander uses the show's off color words, not counting Angry Wander in "The Wanders". ("The Toddler")
Cast
Gallery
v - e - d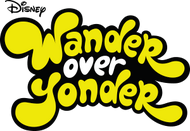 Organizations/Groups
Lord Hater's Army • Insurgent Generals • Wander and Sylvia • Bounty Hunters • Lord Dominator's Army • Galactic Villain Leaderboard
Locations
Lord Hater's Spaceship • Binglebopolopolis • Doomstone • Baaaaa-halla • Phunulon • Ballzeria • Buster • Doom Arena • Planet Ziziks • Flendar • Lord Dominatior's Spaceship • Arachnomorph Homeworld
Ad blocker interference detected!
Wikia is a free-to-use site that makes money from advertising. We have a modified experience for viewers using ad blockers

Wikia is not accessible if you've made further modifications. Remove the custom ad blocker rule(s) and the page will load as expected.