Ad blocker interference detected!
Wikia is a free-to-use site that makes money from advertising. We have a modified experience for viewers using ad blockers

Wikia is not accessible if you've made further modifications. Remove the custom ad blocker rule(s) and the page will load as expected.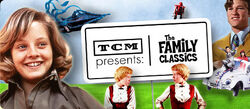 The Family Classics was a marathon on Turner Classic Movies that aired every Sunday of December 2008 that showed many Disney live-action films that came with The Age of Believing: The Disney Live-Action Classics.
Films in the Family Classics
Sun., Dec 7
Noon Treasure Island (1950) – starring Robert Newton and Bobby Driscoll
*1:45 p.m. Swiss Family Robinson (1960) – starring John Mills, Dorothy McGuire, Sessue Hayakawa and Tommy Kirk
*4 p.m. 20,000 Leagues Under the Sea (1954) – starring Kirk Douglas, James Mason, Paul Lukas and Peter Lorre
*6:15 p.m. Old Yeller (1958) – starring Tommy Kirk, Dorothy McGuire and Fess Parker
*8 p.m. The Parent Trap 1961) – starring Hayley Mills, Maureen O'Hara and Brian Keith
*10:15 p.m. Pollyanna (1960) – starring Hayley Mills, Jane Wyman, Karl Malden, Adolphe Menjou and Agnes Moorehead
*12:30 a.m. The Barefoot Executive (1971) – starring Kurt Russell, Harry Morgan, Wally Cox and John Ritter
Sunday, Dec. 14
Noon The Computer Wore Tennis Shoes (1970) – starring Kurt Russell and Cesar Romero
*1:45 p.m. The Strongest Man in the World (1975) – starring Kurt Russell, Cesar Romero and Dick Van Patten
*3:30 p.m. The Absent-Minded Professor (1961) – starring Fred MacMurray, Nancy Olson and Tommy Kirk
*5:15 p.m. Son of Flubber (1963) – starring Fred MacMurray, Nancy Olson, Keenan Wynn, Tommy Kirk and Ed Wynn
*7 p.m. THE AGE OF BELIEVING: THE DISNEY LIVE-ACTION CLASSICS – narrated by Angela Lansbury
*8:30 p.m. The Apple Dumpling Gang (1975) – starring Tim Conway, Don Knotts, Bill Bixby and Susan Clark
*10:15 p.m. The Apple Dumpling Gang Rides Again (1979) – starring Tim Conway, Don Knotts, Tim Matheson, Kenneth Mars and Jack Elam
Sunday, Dec. 21
Sunday, Dec. 28
Gallery