Ad blocker interference detected!
Wikia is a free-to-use site that makes money from advertising. We have a modified experience for viewers using ad blockers

Wikia is not accessible if you've made further modifications. Remove the custom ad blocker rule(s) and the page will load as expected.
Template:Infobox television episode"The Eye on the Skullship" is an episode of Wander Over Yonder.
Plot
Andy the Watchdog interviews Lord Hater for his video blog but struggles with Commander Peepers as he's supposed to be on security camera guard duty.
Background Information
The fourth wall was broken throughout the majority of the episode.
Trivia
This is the fourth episode where Wander and Sylvia are absent ("The Axe", "The Good Bad Guy", "The New Toy")
This is the first episode where the image doesn't freeze-frame when the title appears; instead it's animated.
Several of the crew's dogs appear in this episode.
Production Information
This episode's title was originally revealed on Zap2it.
Cast
Gallery
v - e - d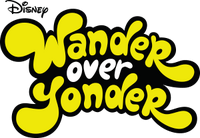 Locations
Lord Hater's Spaceship | Binglebopolopolis | Doomstone | Baaaaa-halla | Phunulon | Ballzeria | Buster | Doom Arena | Planet Ziziks | Flendar | Lord Dominatior's Spaceship | Arachnomorph Homeworld
Organizations/Groups
Insurgent Generals | Wander and Sylvia | Bounty Hunters | Lord Dominator's Army | Galactic Villain Leaderboard