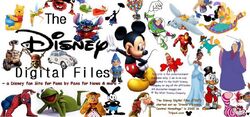 The Disney Digital Files
 (or "TDDF" for short) started life on the web as "Stevie's Disney Central HomePage" in July of
2002
and relaunched as a blog for easier access and a new name, "The Disney Digital Files" (TDDF) in December of
2010
and with more frequent updates. The site is run and founded by Disney fan "Stevie B." The Disney Digital Files (TDDF) fan site is dedicated to informing Disney fans and Disney enthusiasts all over the world with all the news and information that they crave and desire. Visit at:
www.DisneyDigitalFiles.com
Ad blocker interference detected!
Wikia is a free-to-use site that makes money from advertising. We have a modified experience for viewers using ad blockers

Wikia is not accessible if you've made further modifications. Remove the custom ad blocker rule(s) and the page will load as expected.