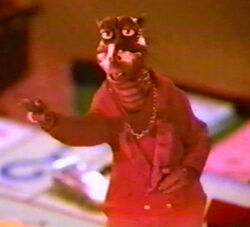 The Devil appeared to tempt Earl Sinclair in the fourth season Dinosaurs episode "Life in the Faust Lane."
The Devil makes a deal to trade Earl's immortal soul for a collectible Fernhill mug, Cap'n Willy, the Ol' Salt. The Devil does so, boasting that he's the king of lawyers and is presently suing the canned ham manufacturers for borrowing his likeness. Earl discovers a warranty on the mug, however, and so is able to stave off the Devil, who reluctantly restores everything the way it was prior to the fateful bargain.
The Devil was voiced by Tim Curry with Pons Maar puppeteering the body and Bruce Lanoil manipulating the face.
| | |
| --- | --- |
| | This page uses Creative Commons Licensed content from Muppet Wiki. The list of authors can be seen in the page revision history (view authors). As with Disney Wiki, the text of Muppet Wiki is available under the CC-by-SA Free Documentation License. |
Ad blocker interference detected!
Wikia is a free-to-use site that makes money from advertising. We have a modified experience for viewers using ad blockers

Wikia is not accessible if you've made further modifications. Remove the custom ad blocker rule(s) and the page will load as expected.