"
The Catastrophe
" is an episode of
Wander Over Yonder
.
Plot
Sylvia's attendance at watching a jellyfish migration is disrupted when Wander becomes attached to a viral "Baby Cakes" video, resulting in him missing everything. It is soon revealed that Little Bits is actually making the video which will put the whole city under her control, and Sylvia must stop her.
Production Information
This episode was originally revealed on Zap2it.
Cast
Jack McBrayer as Wander
April Winchell as Sylvia
G. Hannelius as Little Bits
Gallery
v - e - d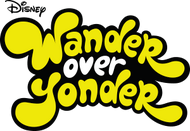 Organizations/Groups
Lord Hater's Army • Insurgent Generals • Wander and Sylvia • Bounty Hunters • Lord Dominator's Army • Galactic Villain Leaderboard
Locations
Lord Hater's Spaceship • Binglebopolopolis • Doomstone • Baaaaa-halla • Phunulon • Ballzeria • Buster • Doom Arena • Planet Ziziks • Flendar • Lord Dominatior's Spaceship • Arachnomorph Homeworld