"The Cartoon" is an episode of Wander Over Yonder.
Plot
Lord Hater orders the Watchdogs to make an action cartoon about him.
Trivia
Hater breaks the fourth wall when he talks about animators.
When Lord Dominator watches "The Mystery Kids Mysteries", a space-alien version of Gravity Falls, Mabel Pines, Dipper Pines, Grunkle Stan and Soos Ramirez appear in modified forms in this episode.
The cartoon is a spoof of the 1980s show He-Man and the Masters of the Universe, as well as the animation studio Filmation Associates, known for its limited animation.
Cast
Gallery
v - e - d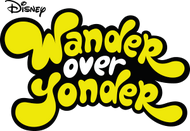 Organizations/Groups
Lord Hater's Army • Insurgent Generals • Wander and Sylvia • Bounty Hunters • Lord Dominator's Army • Galactic Villain Leaderboard
Locations
Lord Hater's Spaceship • Binglebopolopolis • Doomstone • Baaaaa-halla • Phunulon • Ballzeria • Buster • Doom Arena • Planet Ziziks • Flendar • Lord Dominatior's Spaceship • Arachnomorph Homeworld