"If a nerd should ever save a bully's life, the bully is the nerd's slave for life. "Should" is misspelled."
―The Bully Code, read by Baljeet
The Bully Code is an episode of Phineas and Ferb.
Synopsis
When Baljeet saves Buford's life, Buford vows to become his slave. Then, when Candace and Stacy accidentally send bad pictures of Candace to Jeremy's cell phone, they get a job at Mr. Slushy Dawg in order to get his phone and delete the pictures before he sees them.
Episode Summary
Baljeet is in Mr. Slushy Dawg talking to Jeremy about the lack of change of Slushy Dog's menu. Buford arrives at the building and orders a 'Windmill Dog'. As soon as he eats it, he turns blue and starts choking. Baljeet notices and saves Buford from choking. Buford thanks Baljeet and starts worshiping him. He says that he will be Baljeet's slave forever - as per the 'Bully Code'.
Meanwhile, Candace and Stacy are in Candace's room when Jeremy sends Candace a photo of him. She asks Stacy to take a photo of her and send it to Jeremy but all of the photos are horrible. The photos are sent accidentally and the girls decide to go to Jeremy's workplace and delete the photos before he sees them. As they walk past the garden, they see Phineas and Ferb deciding what to do and Candace tells them they're so busted. Stacy reminds her of their mission and head over to Mr Slushy Dawg.
Perry is in the bathroom and taps the floor. Flashing lights appear on the floor and Disco Miniature Golfing Queen can be heard in the background. Perry slides down a chute and lands in the lair. Major Monogram gives Perry his mission and Perry flies to Doofenshmirtz Evil Incorporated. Dr. Doofenshmirtz greets Perry by asking him if he came to sign his foot cast. He says he saved a space for Perry with 'Save for Perry' written on his foot. Perry then gets caught in a trap from a pen on the ceiling whilst Doofenshmirtz explains how he broke his foot (by an ice-cream van running it over) and shows Perry his 'Re-tire-inator'. He plans to shoot a tire at the ice-cream van that ran over his foot.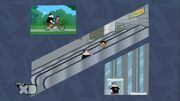 Buford is at Baljeet's house and tries to help Baljeet, but all his actions are unhelpful, almost intentionally so. Baljeet asks Buford to stop being his slave, then climbs out of the window when Buford refuses. He runs to Phineas and Ferb and asks them to help him. They agree and start building a complicated machine across the road from Mr Slushy Dawg, where Candace and Stacy try to sneak in. Jeremy catches them and says that only employees can enter. Candace lies by saying she and Stacy trained to become staff and are next seen in the Slushy Dawg uniform. Candace is working at the drive-through when Linda appears in her station wagon. She is surprised to see Candace whilst Candace spots Phineas and Ferb's machine. She tells Linda to come and see what the boys are doing, but she is stuck in a long line at the drive-through, so Candace starts hurriedly completing orders.
Outside, Phineas is explaining to Baljeet how cool it would be to have a bully as a slave. Baljeet rethinks whilst Buford arrives. Baljeet starts asking Buford to get started on other chores. Just then, Doofenshmirtz sets the gun and counts it down as Perry escapes his net. He jumps on the machine just before the tire is shot. The tire bounces across town until it hits the hot dog on top of Mr Slushy Dawg whilst Candace grabs Jeremy's phone from his hands. The hot dog almost hits Baljeet but Buford pushes him out of the way. Buford says they're even now, disappointing Baljeet. Candace runs into Phineas and Ferb's machine after deleting all of the bad photographs, activating it. Buford catches her, then states that she is now his servant but Candace disagrees. She gives Jeremy his phone back and Jeremy sees the photo Candace took accidentally while on the machine. Jeremy thanks her for the lovely photo and starts to talk about her job at Mr. Slushy Dog. Candace doesn't mind as she quits anyway. Buford ask the boys if they want a Slushy Dog but all refuse. As they leave, Linda passes the boys' machine, looking for Candace. She looks at Phineas and Ferb's creation and says that she doesn't understand public art.
Songs
Do Nothing Day (ringtone)
Disco Miniature Golfing Queen (instrumental)
He'll Do Anything But Go Away
Running Gags
The "Too Young" Line
None.
Ferb's Line
Buford
: Hey, you guys wanna hit Slushy Dog before we go home?
Ferb
: Oh, heavens, no. Slushy Dogs never get any better.
What'cha doin'?
None.
Perry's entrance to his lair
By tapping his feet on a bathroom floor tile. The floor tiles get a disco theme and open.
Memorable Quotes
Baljeet: Do you find it as curious as I do that your menu has not changed since you opened in 1929? Jeremy: I know. It's awesome, right. It's our motto - "Slushy Dawgs will never get any better."
Dr. Doofenshmirtz
: See? I saved you a spot, right there, see? It says "Save for Perry". Of course, it was a bigger spot before I wrote "Save for Perry" on it...
Dr. Doofenshmirtz: You heard of the internet?! Well, this is just a net. But you're caught!
Candace
: I'm going to et-gay the one-phay.
Stacy
: Ugh, you KNOW I don't speak Spanish.
Candace: Stacy, we've got to get Mom up here so she can see what the boys are doing. Keep throwing food out the window!
Stacy: Okay...
Baljeet: (excited) YES!! This thing is definitely a thing! What is this thing?
The Re-tire-inator lands on Dr. Doofenshmirtz's good foot
Dr. Doofenshmirtz: Ow! Oh, my good foot! Ow! Oh, my bad foot! Oh, my good foot again! Now my bad foot! Ow, this is really a vicious cycle!
Background Information
Major Monogram apologizes for disturbing Perry on Canada Day, which is July 1. However, it is not the first episode to take place in July. This episode may take place before the other ones, and confirm that the episode production order is different than their in-universe chronological order.

This is further proven as "Sidetracked," a Season 4 episode, takes place before Canada Day.

This is one of the few episodes to have Doofenshmirtz address Agent P as Perry, not Perry the Platypus.
Mr. Slushy Dawg was founded the same year as the infamous stock market crash. It is unknown whether this was intentional or not. It's probably why "it never gets better."
It is weird that Buford would say to Candace that she is his slave because Buford is not a nerd and Candace is not a bully. This could be because Buford is in love in Candace and wants to have her as her servant for being with her
Isabella does not make any appearances in either this episode or "Finding Mary McGuffin".
When Perry taps his feet on the bathroom floor tile, a bit of music from Disco Miniature Golfing Queen plays ("Put That Putter Away").
Dr. Bloodpudding has the Giant floating baby head with him. It also appears to have signed Dr Doofenshmirtz's cast under the spot Doofenshmirtz saved for Perry ("One Good Scare Ought to Do It!", et al.).
The show's Theme Song can be heard when Candace is on Phineas and Ferb's contraption, it sounds like the Original Cut, the more cartoonish version.
The Slushy the Clown jingle is heard briefly when the kids debate on going to Slushy Dog towards the end of the episode ("Does This Duckbill Make Me Look Fat?").
This is one of the few episodes that Linda actually sees Phineas and Ferb's invention, even though she thinks it is public art.
Production Information
In the UK, this episode is called "The Bully Pledge".
International Premieres
October 17, 2009 (Disney XD UK)
April, 2010 (Disney XD Spain)
September 11, 2010 (CITV UK)
Errors
When Monogram is briefing Agent P, the second and third surveillance pictures bear the same recording time, 12:01:03. This means that the events occur at the same time, which is impossible as the camera is accurate to the second, and it records the same entrance. Also, the blue and yellow cars present in picture two do not appear in picture three.
When Stacy wonders what the buttons are for, Candace's legs are in an impossible position.
When Stacy first takes a picture of Candace, when the screen of the phone is facing Stacy, it shows a particular picture. But when Candace is looking at the picture, it is a different a picture.
When Phineas, Ferb and Baljeet start talking after the hotdog falls it seems to disappear, but they might have been in an angle where you can't see it.
Continuity
Allusions
Cast
v - e - d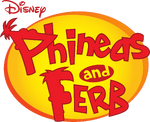 Episodes
Season One: "Rollercoaster" • "Candace Loses Her Head" • "The Fast and the Phineas" • "Lawn Gnome Beach Party of Terror" • "The Magnificent Few" • "S'Winter" • "Are You My Mummy?" • "Flop Starz" • "Raging Bully" • "Lights, Candace, Action!" • "Get That Bigfoot Outta My Face!" • "Tree to Get Ready" • "It's About Time!" • "Jerk De Soleil" • "Toy to the World" • "One Good Scare Ought to Do It!" • "A Hard Day's Knight" • "I, Brobot" • "Mom's Birthday" • "Journey to the Center of Candace" • "Run Away Runway" • "I Scream, You Scream" • "It's a Mud, Mud, Mud, Mud World" • "The Ballad of Badbeard" • "Dude, We're Getting the Band Back Together" • "Ready for the Bettys" • "The Flying Fishmonger" • "Phineas and Ferb Get Busted!" • "Greece Lightning" • "Leave the Busting to Us!" • "Crack That Whip" • "The Best Lazy Day Ever" • "Boyfriend From 27,000 B.C." • "Voyage to the Bottom of Buford" • "Put That Putter Away" • "Does This Duckbill Make Me Look Fat?" • "Traffic Cam Caper" • "Bowl-R-Ama Drama" • "The Monster of Phineas-n-Ferbenstein" • "Oil on Candace" • "Unfair Science Fair" • "Unfair Science Fair Redux (Another Story)" • "Out to Launch" • "Got Game?" • "Comet Kermillian" • "Out of Toon" • "Hail Doofania!"


Season Two: "The Lake Nose Monster" • "Interview With a Platypus" • "Tip of the Day" • "Attack of the 50 Foot Sister" • "Backyard Aquarium" • "Day of the Living Gelatin" • "Elementary My Dear Stacy" • "Don't Even Blink" • "Chez Platypus" • "Perry Lays an Egg" • "Gaming the System" • "The Chronicles of Meap" • "Thaddeus and Thor" • "De Plane! De Plane!" • "Let's Take a Quiz" • "At the Car Wash" • "Oh, There You Are, Perry" • "Swiss Family Phineas" • "Hide and Seek" • "That Sinking Feeling" • "The Baljeatles" • "Vanessassary Roughness" • "No More Bunny Business" • "Spa Day" • "Phineas and Ferb's Quantum Boogaloo" • "Phineas and Ferb Musical Cliptastic Countdown" • "Bubble Boys" • "Isabella and the Temple of Sap" • "Cheer Up Candace" • "Fireside Girl Jamboree" • "The Bully Code" • "Finding Mary McGuffin" • "Picture This" • "Nerdy Dancin'" • "What Do It Do?" • "Atlantis" • "Phineas and Ferb Christmas Vacation!" • "Just Passing Through" • "Candace's Big Day" • "I Was a Middle Aged Robot" • "Suddenly Suzy" • "Undercover Carl" • "Hip Hip Parade" • "Invasion of the Ferb Snatchers" • "Ain't No Kiddie Ride" • "Not Phineas and Ferb" • "Phineas and Ferb-Busters!" • "The Lizard Whisperer" • "Robot Rodeo" • "The Beak" • "She's the Mayor" • "The Lemonade Stand" • "Phineas and Ferb Hawaiian Vacation" • "Summer Belongs to You!" • "Nerds of a Feather" • "Wizard of Odd" • "We Call it Maze" • "Ladies and Gentlemen, Meet Max Modem!" • "The Secret of Success" • "The Doof Side of the Moon" • "Split Personality" • "Brain Drain" • "Rollercoaster: The Musical!" • "Make Play" • "Candace Gets Busted"
Season Three: "The Great Indoors" • "Canderemy" • "Run, Candace, Run" • "Last Train to Bustville" • "Phineas' Birthday Clip-O-Rama!" • "The Belly of the Beast" • "Moon Farm" • "Ask a Foolish Question" • "Misperceived Monotreme" • "Candace Disconnected" • "Magic Carpet Ride" • "Bad Hair Day" • "Meatloaf Surprise" • "Phineas and Ferb Interrupted" • "A Real Boy" • "Mommy Can You Hear Me?" • "Road Trip" • "Tour de Ferb" • "Skiddley Whiffers" • "My Fair Goalie" • "Bullseye!" • "That's the Spirit" • "The Curse of Candace" • "Escape from Phineas Tower" • "Lotsa Latkes" • "Ferb Latin" • "A Phineas and Ferb Family Christmas" • "Tri-Stone Area" • "Doof Dynasty" • "Excaliferb" • "Phineas and Ferb and the Temple of Juatchadoon" • "Monster from the Id" • "Gi-Ants" • "The Remains of the Platypus" • "Mom's in the House" • "Perry the Actorpus" • "Let's Bounce" • "Bully Bromance Break Up" • "Quietest Day Ever" • "Doonkleberry Imperative" • "Meapless in Seattle" • "Delivery of Destiny" • "Buford Confidential" • "The Mom Attractor" • "Cranius Maximus" • "Agent Doof" • "Minor Monogram" • "What a Croc!" • "Sleepwalk Surprise" • "Sci-Fi Pie Fly" • "Sipping with the Enemy" • "Tri-State Treasure: Boot of Secrets" • "Doofapus" • "Norm Unleashed" • "Where's Perry?" • "Ferb TV" • "When Worlds Collide" • "What'd I Miss?" • "Road to Danville" • "This is Your Backstory" • "Blackout!"
Season Four: "For Your Ice Only " • "Happy New Year!" • "Fly On the Wall" • "Bully Bust" • "My Sweet Ride" • "Der Kinderlumper" • "Sidetracked" • "Primal Perry" • "Mind Share" • "Backyard Hodge Podge" • "Bee Day" • "Bee Story" • "Great Balls of Water" • "Where's Pinky?" • "Phineas and Ferb Musical Cliptastic Countdown Hosted by Kelly Osbourne" • "Knot My Problem" • "Just Desserts" • "La Candace-Cabra" • "Happy Birthday, Isabella" • "Love at First Byte" • "One Good Turn" • "Mission Marvel" • "Thanks But No Thanks" • "Troy Story" • "Druselsteinoween" • "Terrifying Tri-State Trilogy of Terror" • "Face Your Fear" • "Cheers for Fears" • "Steampunx" • "Just Our Luck" • "Return Policy" • "Live and Let Drive" • "Phineas and Ferb Save Summer" • "Father's Day" • "Imperfect Storm" • "The Return of the Rogue Rabbit" • "It's No Picnic" • "The Klimpaloon Ultimatum" • "Operation Crumb Cake" • "Mandace" • "Phineas and Ferb: Star Wars" • "Lost in Danville" • "The Inator Method" • "Night of the Living Pharmacists" • "Tales from the Resistance: Back to the 2nd Dimension" • "Doof 101" • "Act Your Age" • "Last Day of Summer" • "O.W.C.A. Files"