"
The Black Cube
" is an episode of
Wander Over Yonder
.
Wander convinces a down-on-his-luck villain to spend a day looking on the bright side of things instead of collecting the souls of others.
This will be the first episode to be fully black-and-white.
This is the seventh episode where Wander reforms a villain.
Noel Wells is credited for voicing Lord Dominator in this episode; however, she actually voices Stacy instead (the ex-girlfriend of the Black Cube of Darkness).
v - e - d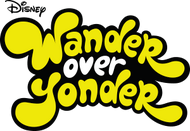 Organizations/Groups
Lord Hater's Army • Insurgent Generals • Wander and Sylvia • Bounty Hunters • Lord Dominator's Army • Galactic Villain Leaderboard
Locations
Lord Hater's Spaceship • Binglebopolopolis • Doomstone • Baaaaa-halla • Phunulon • Ballzeria • Buster • Doom Arena • Planet Ziziks • Flendar • Lord Dominatior's Spaceship • Arachnomorph Homeworld