Ad blocker interference detected!
Wikia is a free-to-use site that makes money from advertising. We have a modified experience for viewers using ad blockers

Wikia is not accessible if you've made further modifications. Remove the custom ad blocker rule(s) and the page will load as expected.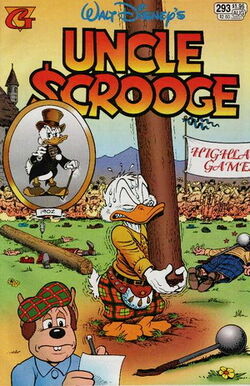 The Billionaire of Dismal Downs is a Scrooge McDuck comic by Don Rosa. It is the ninth of the original 12 chapters in the series The Life and Times of Scrooge McDuck. The story takes place from 1898 to 1902.
Plot
Having struck it rich in the Klondike Gold Rush (see chapter 8, King of the Klondike), Scrooge goes home to Scotland, but after realizing that he doesn't fit in very well there any more, he hires Scottie McTerrier to look after the McDuck castle for him, while he and his sisters leave for a small, unseeming town Scrooge has recently bought from its founder's grandson while a sourdough in Alaska: Duckburg, Calisota, U.S.A. The morning they leave, their father Fergus dies, joining his late wife and the rest of the Clan McDuck.
External links
| | |
| --- | --- |
| | This page uses content from the English Wikipedia. The article or pieces of the original article was at The Billionaire of Dismal Downs. The list of authors can be seen in the page history. As with Disney Wiki, the text of Wikipedia is available under the GNU Free Documentation License. |