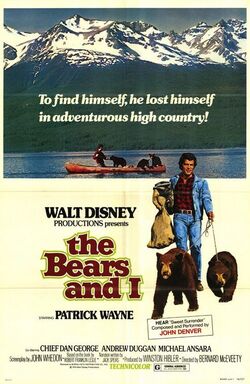 The Bears and I is a 1974 adventure film and was produced by Winston Hibler, who produced many of those Disney "True Life Adventures" of the 1950s. The Bears and I was based on a book by Robert Franklin Leslie. The beautiful Canadian Rockies photography adds to a tender story, and the soundtrack features songs by John Denver.
Plot
Bob Leslie is a Vietnam veteran who goes to the Canadian Rockies when he is discharged. There he adopts three orphaned bear cubs and helps an Indian tribe get back the land that is legally theirs.
Cast
Patrick Wayne as Bob Leslie
Chief Dan George as Chief Peter A-Tas-Ka-Nay
Andrew Duggan as Commissioner Gaines
Michael Ansara as Oliver Red Fern
Robert Pine as John McCarten
Valentin de Vargas as Sam Eagle Speaker (as Val DeVargas)
Hal Baylor as Foreman
Music
Sweet Surrender by John Denver.
Production details
Directed by Bernard McEveety
Producer: Winston Hibler
Writing credits: John Whedon (screenplay)
Writing credits: Robert Franklin Leslie (novel)
Narrator: Jack Speirs
Original Music by Buddy Baker
Cinematography by Ted D. Landon
Film Editing by G. Gregg McLaughlin
Art Direction by LeRoy Deane, John B. Mansbridge
Makeup Artist: Robert J. Schiffer
Sound Department
Sound supervisor: Herb Taylor
Special Effects by Danny Lee
Gallery
Ad blocker interference detected!
Wikia is a free-to-use site that makes money from advertising. We have a modified experience for viewers using ad blockers

Wikia is not accessible if you've made further modifications. Remove the custom ad blocker rule(s) and the page will load as expected.