"
The Bad Hatter
" is an episode of
Wander Over Yonder
.
Plot
Lord Hater gets more than he bargained for when he steals Wander's hat in order to impress Lord Dominator.
Trivia
The title is a pun on "The Mad Hatter" from Alice in Wonderland.
This is the second episode to begin with "The Bad". ("The Bad Guy")
It is revealed that Wander stole his hat to stop two people from abusing it's magic and it learned to trust Wander.
Production Information
This episode's title and airdate was originally revealed on Google.
Following a month-long hiatus in December, this will be the first episode to be aired in 2016.
Cast
v - e - d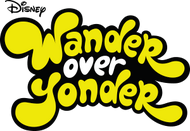 Organizations/Groups
Lord Hater's Army • Insurgent Generals • Wander and Sylvia • Bounty Hunters • Lord Dominator's Army • Galactic Villain Leaderboard
Locations
Lord Hater's Spaceship • Binglebopolopolis • Doomstone • Baaaaa-halla • Phunulon • Ballzeria • Buster • Doom Arena • Planet Ziziks • Flendar • Lord Dominatior's Spaceship • Arachnomorph Homeworld
Ad blocker interference detected!
Wikia is a free-to-use site that makes money from advertising. We have a modified experience for viewers using ad blockers

Wikia is not accessible if you've made further modifications. Remove the custom ad blocker rule(s) and the page will load as expected.