The Amazons
 are a group of jumpsuit-wearing racecar driving ladies.
Background
Physical appearance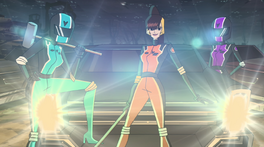 The Amazons all wear full racing uniforms with heart motifs.
Appearances
When The Duke of Detroit set a bounty on The Burners heads, the Amazons were among those who tried to claim the reward.
Episode Appeances
105. "The Duke of Detroit"
107. "Blonde Thunder" 
116. "Julie and the Amazons" 
117. "The Robo-Roundup" 
119."Vega"
Gallery