"That Purple Girl" is the fifth episode of the first season of Penn Zero: Part-Time Hero. It aired on February 14, 2015.
Synopsis
Penn and Boone's friendship is put to the test when they both fall for a beautiful alien princess that they must escort though the jungle back to her tribe.
Plot
Trivia
Elizabeth Henstridge (Marvel's Agents of S.H.I.E.L.D.) guests stars as Princess.
The title is a reference to the 1966 sitcom That Girl.
This episode is a parody of James Cameron's 2009 film Avatar.
v - e - d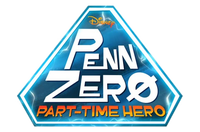 Locations
Middleburg • Middleburg Central High • The Odyssey • Fish Stick on a Stick • North Pole • Knight World • Superhero World • Arabian World • Plush Toy World • Clown World • Dinosaur Cowboy World • Cereal World • Old English World • Giant Monster World • Zombie World • Space World • Ocean World • Color World • Musical Fairy Tale World • Caveman Spy World • Future Barbarian World • Ultrahyperball World • Demon World • Alien World • Galaxy World • Temple World • Dragon World • Gothic Mystery World • Plant World • Animal Barbarian World • Toy World • Outer Space Court World • Robot World • Pirate World • Fairymania World • Steampunk World • Ball World • Ghost World • Rock, Paper, Scissor World • Beast World • Anime World • Sitcom World • Nothingness • Most Dangerous World Imaginable • Least Dangerous World Imaginable
Objects
Multi-Universe Hologram Uplink • Multi-Universe Transprojector • Pigoilet • The QPC Unit • Vortex Tops • Specs