Thanos
Comment

1
19,096pages on
this wiki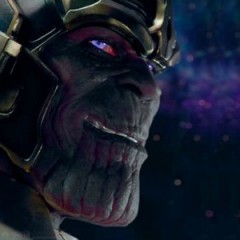 "If you fail, if the Tesseract is kept from us, there will be no realm, no barren moon, no crevice where he can not find you. You think you know pain? He will make you long for something as sweet as pain.""
―The Other describing Thanos

Thanos is a behind-the-scenes villain that makes a brief appearance during the closing Post-credits of the 2012 Marvel film The Avengers. He is portrayed by actor Damion Poitier.
It has been confirmed that he will appear as the main antagonist in the upcoming films Guardians of the Galaxy and The Avengers 2 respectively.[1]
History
He is revealed to have been Loki's benefactor, having provided the Chitauri army used by Loki in his attempted invasion of Earth. When advised by his intermediary (known simply as the "Other") that opposing the Avengers would be "to court death," Thanos glances at the camera and flashes an evil grin.
Gallery