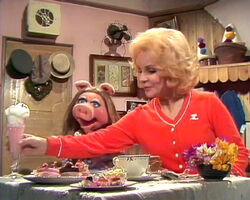 Teresa Brewer (May 7, 1931 – October 17, 2007) was an American pop singer whose style incorporated elements of country, jazz, R&B, musicals and novelty songs.
She never had any Disney roles, but she appeared as a guest star in episode 222 of The Muppet Show.
Gallery
Ad blocker interference detected!
Wikia is a free-to-use site that makes money from advertising. We have a modified experience for viewers using ad blockers

Wikia is not accessible if you've made further modifications. Remove the custom ad blocker rule(s) and the page will load as expected.