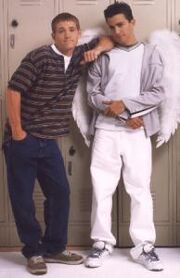 Teen Angel is an American fantasy sitcom that aired during ABC's TGIF Friday night lineup from 1997 to 1998. The series was created by Simpsons writers/producers Al Jean and Mike Reiss.
Synopsis
Teen Angel follows a high school boy, Steve Beauchamp (Corbin Allred), and his recently-deceased best friend, Marty DePolo, (Mike Damus) who, after dying from eating a six-month-old hamburger from under Steve's bed on a dare, hangs around as a kind of dimwitted guardian angel to Allred's character. Ron Glass played God's cousin, Rod. Maureen McCormick, who played Steve's mother, Judy, left the series halfway through its run.
Marty, as a supernatural being, would frequently break the fourth wall; for instance, prior to the opening credits of the episode "Grumpy Young Men", Marty explained the absence of Steve's mother and the return of his father to the viewers.
Reception and cancellation
The series was created and placed in the TGIF lineup by ABC in an attempt to capitalize on the success on another ABC supernatural series, Sabrina, the Teenage Witch. The series, however, failed to gain an audience and was canceled by ABC after 17 episodes.
Cast
Mike Damus.....Marty DePolo
Corbin Allred.....Steve Beauchamp
Ron Glass.....Rod, God's Cousin
Maureen McCormick.....Judy Beauchamp
Tommy Hinkley.....Casey Beauchamp
Katie Volding.....Katie Beauchamp
Jordan Brower.....Jorden Lubell
Conchata Ferrell.....Aunt Pam
Jerry Van Dyke.....Grandpa Jerry Beauchamp
Episodes
| # | Title | Air date | Summary |
| --- | --- | --- | --- |
| 1 | "Marty Buys the Farm" | September 26, 1997 | Marty passes on after eating a 6 month old burger under Steve's bed. Steve goes into a deep depression, since not only is his best friend gone, but his father has recently left, and he's picked on constantly at school. His mother, sister, and aunt attempt to help, but God's cousin, Rod, sends Steve Marty as his guardian angel, or "Teen Angel", as Marty dubs himself. Marty helps Steve conquer his fear of talking to girls, failing tests, and being unpopular. |
| 2 | "Date With an Angel" | October 3, 1997 | Steve has a crush on one of the most popular cheerleaders, Jessica Fishman (Bridget Flanery). But Marty is afraid she'll reject him, so when Steve calls her, Marty pretends to be Jessica and sets up a date with Steve. To save face, Marty morphs into Jessica for the date, and chaos ensues when the real Jessica turns up. |
| 3 | "Sings Like an Angel" | October 10, 1997 | As a joke, Marty grants Steve a beautiful singing voice for choir tryouts. Soon Steve has almost every solo or duet part and the prettiest duet partner, Edie. But during the huge talent competition, Marty is called upon to help an old woman to a better place and can't be there for Steve or his voice. |
| 4 | "Wrestling with an Angel" | October 17, 1997 | Wishing to seem more powerful, Steve tries out for the wrestling team. Unwilling to let his friend be pummeled, Marty wins the match for him. When the whole school is counting on Steve to win, Steve is counting on Marty to help him out. |
| 5 | "Honest Abe and Popular Steve" | October 24, 1997 | Marty starts bringing in historical figures to help Steve with his life (Abraham Lincoln to write his history papers, Cleopatra to give him love advice so he can date Homecoming Queen Amy Kosover, Pablo Picasso to design "Steve for Class President" campaign posters, etc.) Rod decides that since Marty has done such a good job with Steve that it's time for him to move on to famous jerk rock star, Sammy Noah (Dee Snider). |
| 6 | "I Love Nitzke" | October 31, 1997 | In an attempt to make Aunt Pam like Mr. Nitzke, Steve's driver's ed instructor, Marty swipes some of Cupid's arrows. However, his poor aim causes Judy, Pam, and Katie to all fall for Mr. Nitzke, making Steve uncomfortable when they all insist on coming to the Halloween Dance with him. |
| 7 | "One Dog Night" | November 7, 1997 | Sabrina Spellman (played by Melissa Joan Hart) tracks down her cat, Salem, who has swallowed her magic "time ball" to blast everyone back to 1976. Meanwhile, Judy is bemoaning the lack of a man in her life, but when Marty turns the family dog into the loyal and loving "Bob", she gets more than she asked for. And, Marty tries to create his own magic with Sabrina. |
| 8 | "Jeremiah was a Bullfrog" | November 14, 1997 | Marty gives Steve's science class frog the power of speech -- with a British accent (Tim Curry) -- and the two become attached to their amphibian friend. But when his new biology teacher (Yeardley Smith) insists he must dissect his frog or fail the class, Steve is put into a very tight situation. |
| 9 | "Feather's Day" | November 28, 1997 | Katie's troop is camping, and she has lost her required tribal feather. Steve snags one of Marty's wing feathers when Marty's not looking to give Katie. What he doesn't know is the feather grants the holder anything they desire. Zachery Ty Bryan appears as himself, when Katie's friend wishes for it. |
| 10 | "Steve & Marty & Jordan & Uncle Lou" | December 5, 1997 | Marty wants to tag along wherever Steve goes with new best pal, Jordan. But when Steve insists he not, Marty reunites with his Uncle Lou (Robert Costanzo) in Heaven. |
| 11 | "Living Doll" | December 19, 1997 | Marty brings Katie's doll to life to babysit her when Steve has a date, but there's trouble when Katie's doll is over-affectionate with Steve in front of his girl. |
| 12 | "Grumpy Young Men" | January 9, 1998 | Steve's mom has left, and Steve's dad, Casey (Tommy Hinkley), has rejoined the family, bringing along his father (Jerry Van Dyke). Steve tries to sneak into a dance club, with the help of a Marty-grown mustache, but in the morning the mustache continues to expand, and Steve ages considerably. Meanwhile, Marty discovers that Grandpa can see him. |
| 13 | "Who's the Boss" | January 16, 1998 | When Katie, Pam, and Casey are gone for the weekend, Steve throws a 16th birthday party for Marty, inviting friends, and Marty inviting dead celebrities. The family, however, comes home early to a mess, and Steve learns a lesson about telling the truth. |
| 14 | "The Play's the Thing" | January 23, 1998 | Life gets tenser for those around Steve, as they are seeing more of him appearing to talk to thin air, when Marty helps Steve get the lead in the school play. |
| 15 | "Back to DePolo" | January 30, 1998 | Marty discovers he can time travel and attempts to stop himself from eating the "Death Burger". But when he doesn't, Steve calls him a chicken, and eats the burger himself. Repeated attempts to keep the burger away fail, and soon everyone in the whole house has eaten it once. |
| 16 | "The Un-Natural" | February 6, 1998 | Marty gives Casey a perfect pitch at a carnival toss, convincing the former pitcher erroneously that he's still got "the gift" and leading him to try out for a pro baseball team. Marty also reunites Grandpa with Grandma (Beverly Garland), who's in heaven, so Grandpa can finally move on. |
| 17 | "Look Ma, No Face" | February 13, 1998 | Marty finds out that Nia (Irene Ng), the girl he liked when he was living, liked him back. He devises a scheme to call himself Vlad from Bulgaria, puts on makeup, a wig, and sunglasses, and pretends to be alive for just one date with Nia. However, Rod has forbidden him from this outing. |
Award nominations
Year
Award
Result
Category
Recipient
1998
Young Artist Award
Nominated
Best Performance in a TV Comedy Series - Leading Young Performer
Mike Damus
Best Performance in a TV Comedy Series - Leading Young Performer
Corbin Allred
Best Family TV Comedy Series

–
See Also
External links
| | |
| --- | --- |
| | This page uses content from the English Wikipedia. The article or pieces of the original article was at Teen Angel (1997 TV series). The list of authors can be seen in the page history. As with Disney Wiki, the text of Wikipedia is available under the GNU Free Documentation License. |