Ad blocker interference detected!
Wikia is a free-to-use site that makes money from advertising. We have a modified experience for viewers using ad blockers

Wikia is not accessible if you've made further modifications. Remove the custom ad blocker rule(s) and the page will load as expected.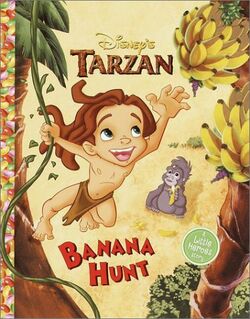 Tarzan Banana Hunt is a 2003 Jellybean Books storybook featuring Tarzan.
Book Description
Whom can you count on to bring bunches of bananas down from the highest trees? Tarzan, of course!
Details
Hardcover
Publisher: Disney Books for Young Readers (Feb 2003)
Language: English
ISBN-10: 0736411747
ISBN-13: 978-0736411745