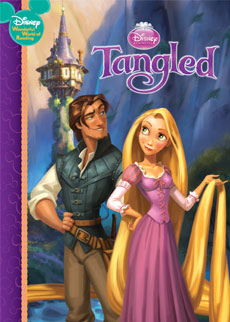 Tangled
is the
Disney's Wonderful World of Reading
storybook adaptation of
the animated film of the same name
.
Description
The classic tale of Rapunzel is given a new twist in Tangled. Based on the hit Disney film, this storybook brings to life the spirited heroine, Rapunzel–along with her magical golden hair. Since she was a baby, Rapunzel has been raised inside a tall tower by Mother Gothel, who really only loves Rapunzel's magical hair. When Rapunzel finally escapes the tower in the company of a good-hearted thief named Flynn Rider, she finds out more than she ever imagined about the outside world and herself. This adventurous tale reminds readers of the power of true love, while warming our hearts with its messages of hope.
Alternate covers
Ad blocker interference detected!
Wikia is a free-to-use site that makes money from advertising. We have a modified experience for viewers using ad blockers

Wikia is not accessible if you've made further modifications. Remove the custom ad blocker rule(s) and the page will load as expected.