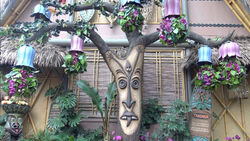 Tangaroa
is a Tiki God who appears as a mighty tree in the pre-show area of
Walt Disney's Enchanted Tiki Room
at
Disneyland
. He's the father of all the Tiki Gods and Goddesses.
His voice was provided by Thurl Ravenscroft.
In Disney Kingdoms: Enchanted Tiki Room, Tangaroa serves as a near omniscient narrator who knows of many things in the Pacific islands, but has no idea how the Enchanted Tiki Room's island became enchanted.
Ad blocker interference detected!
Wikia is a free-to-use site that makes money from advertising. We have a modified experience for viewers using ad blockers

Wikia is not accessible if you've made further modifications. Remove the custom ad blocker rule(s) and the page will load as expected.