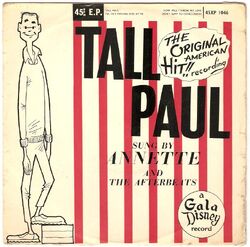 "Tall Paul" is a song by Annette Funicello and written by the Sherman Brothers. It marked the first time that a female singer reached a top ten slot for a rock and roll single. It also spotlighted Annette from amongst the other Mouseketeers on the Mickey Mouse Club and paved the way for the movie career which followed. Walt Disney personally took notice of the string of chart toppers which the Sherman Brothers were writing for Annette and subsequently asked the songwriters to work for him exclusively. The Sherman Brothers went on to win two Oscars for Mary Poppins several years later.
"Tall Paul" was credited to Annette and the Afterbeats and reached #7 on the Billboard Hot 100 chart in 1959. It was the highest-charting song by Annette Funicello and also one of the shortest, clocking in at 1 minute and 38 seconds.
In the 1980s and 1990s, the song was the subject of a DTV music video that aired on the Disney Channel. The video was set to clips from Paul Bunyan (as well as The Dognapper, Mickey's Steamroller and How to Play Football). The music video was made available on the DTV: Golden Oldies VHS, Betamax, CED, and Laserdisc.
Lyrics
Chalk on the sidewalk
Writin' on the wall
Everybody knows it
I love Paul

Tall Paul, tall Paul
Tall Paul, he's-a my all

Chalk on the sidewalk (chalk on the sidewalk)
'nitials on a tree ('nitials on a tree)
Ev'rybody knows it (ev'rybody knows it)
Paul loves me

(Tall Paul)

With the king-size arms
(Tall Paul)

With the king-size charms
(Tall Paul)

With the king-size kiss
(He's my all) He's my all!!

(Tall Paul is my love, tall Paul is my dream)
(He's the captain of the high school football team)

He's my mountain
He's my tree
We go steady
Paul and me

Tall Paul (with the great big smile)
Tall Paul (with the great big eyes)
Tall Paul, (with the great big kiss)
He's my all

Tall Paul, tall Paul
Tall Paul, he's my all