Ad blocker interference detected!
Wikia is a free-to-use site that makes money from advertising. We have a modified experience for viewers using ad blockers

Wikia is not accessible if you've made further modifications. Remove the custom ad blocker rule(s) and the page will load as expected.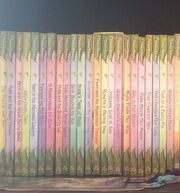 Tales of Pixie Hollow
is a series of
Disney Fairies
chapter books published by Random House.
Books
The Trouble with Tink ~ by Kiki Thorpe
Vidia and the Fairy Crown ~ by Laura Driscoll
Beck and the Great Berry Battle ~ by Laura Driscoll
Fairy Haven and the Quest for the Wand ~ by Gail Carson Levine
Lily's Pesky Plant ~ by Kirsten Larsen
Rani in the Mermaid Lagoon ~ by Lisa Papademetriou
Fairies and the Quest for Never Land ~ by Gail Carson Levine
Fira and the Full Moon ~ by Gail Herman
A Masterpiece for Bess ~ by Lara Bergen
Prilla and the Butterfly Lie ~ by Kitty Richards
Tink, North of Never Land ~ by Kiki Thorpe
Beck Beyond the Sea ~ by Kimberly Morris
Dulcie's Taste of Magic ~ by Gail Herman
Silvermist and the Ladybug Curse ~ by Gail Herman
Fawn and the Mysterious Trickster ~ by Laura Driscoll
Rosetta's Daring Day ~ by Lisa Papademetriou
Iridessa, Lost at Sea ~ by Lisa Papademetriou
Queen Clarion's Secret ~ by Kimberly Morris
Myka Finds Her Way ~ by Gail Herman
Tinker Bell Takes Charge ~ by Eleanor Fremont (included in Tinker Bell: Two Pirate Tales, published separately by HarperCollins)
Lily in Full Bloom ~ by Laura Driscoll
Rani and the Three Treasures ~ by Kimberly Morris (included in Rani: Two Friendship Tales, published separately by HarperCollins)
Vidia Meets Her Match ~ by Kiki Thorpe
Art Lessons for Bess ~ by Amy Vincent (included in Bess: Two Colorful Tales)
Four Clues for Rani ~ by Catherine Daly
Trill Changes Her Tune ~ by Gail Herman
Tink in a Fairy Fix ~ by Kiki Thorpe
Rosetta's Dress Mess ~ by Laura Driscoll