Ad blocker interference detected!
Wikia is a free-to-use site that makes money from advertising. We have a modified experience for viewers using ad blockers

Wikia is not accessible if you've made further modifications. Remove the custom ad blocker rule(s) and the page will load as expected.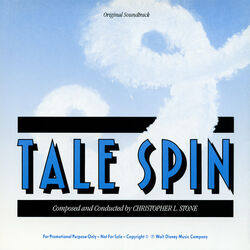 The TaleSpin Soundtrack
is a soundtrack album containing pieces of the musical score for
the Disney Afternoon
show
TaleSpin
, conducted by Christopher L. Stone. The album was made for promotional purposes, with only 50 copies made.
Tracks
Opening Air Battle - 2:26
Romantic Theme - 1:31
Wind Surfing/Iron Vulture - 1:24
Don Karnage's Cave - 1:48
Kit's Flight - 1:45
Wildcat's Wild Ride - 0:50
Big Battle - 3:38
Cape Suzette - 1:01
Don Karnage's Theme - 0:30
Kit's Chase - 0:57
Snowflakes - Rebecca's Theme - 1:59
Rebecca Flustered - 1:50
Molly In Christmas Land - 2:47
Molly Sees Santa - 4:40
Omen/Storm - 2:30
Khan Tower - 1:20
Tinabula/Scarab Chase - 4:12
Baloo Saves the Ship - 2:33
Finale - 2:33
Louie's Place - 0:35