Ad blocker interference detected!
Wikia is a free-to-use site that makes money from advertising. We have a modified experience for viewers using ad blockers

Wikia is not accessible if you've made further modifications. Remove the custom ad blocker rule(s) and the page will load as expected.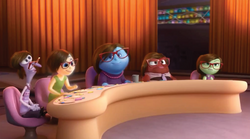 "Take My Breath Away" is a song by Berlin from the movie Top Gun. It plays inside Riley's Mother's Headquarters at the end of Riley's First Date? to express her contentment at having just been kissed by Riley's Father.
Lyrics
Watching every motion
In my foolish lover's game
On this endless ocean
Finally lovers know no shame

Turning and returning
To some secret place inside
Watching in slow motion
As you turn around and say

Take my breath away
Take my breath away

Watching I keep waiting
Still anticipating love
Never hesitating
To become the fated ones
Turning and returning

To some secret place to find
Watching in slow motion
As you turn to me and say
My love

Take my breath away

Through the hourglass I saw you
In time you slipped away
When the mirror crashed I called you
And turned to hear you say
If only for today
I am unafraid

Take my breath away
Take my breath away

Watching every motion
In this foolish lover's game
Haunted by the notion
Somewhere there's a love in flames

Turning and returning
To some secret place inside
Watching in slow motion
As you turn my way and say

Take my breath away
Take my breath away
Trivia