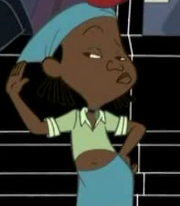 All info was provided
http://theproudfamily.wikia.com/wiki/Tabasco
Tabasco (voiced by Debra Wilson) is one of Dijonay's sisters. She is wild, big-mouthed, and interruptive around Penny. As she and her siblings along with BeBe and CeCe mess around with the limo carrying 3rd Storee, she smart talks the big headed limo driver that he along with most people can't afford it and insults him. After arriving at the concert, she and her siblings act like they don't know Dijonay because she ditched them for a ticket.
Gallery
Ad blocker interference detected!
Wikia is a free-to-use site that makes money from advertising. We have a modified experience for viewers using ad blockers

Wikia is not accessible if you've made further modifications. Remove the custom ad blocker rule(s) and the page will load as expected.