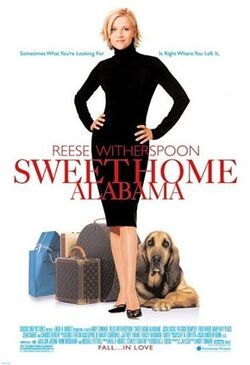 Sweet Home Alabama
is an American romantic comedy film directed by Andy Tennant, starring
Reese Witherspoon
,
Josh Lucas
, and
Patrick Dempsey
. The film was distributed by
Touchstone Pictures
and released on
September 27
,
2002
.
Plot
The film opens on an Alabama beach with two children chasing each other: Melanie Smooter and Jake Perry. The two discuss their future together. They kiss, and Jake says they will be married one day. The scene then moves to the present day. Melanie (Reese Witherspoon) has changed her last name to Carmichael to hide her Southern roots. She now is a successful fashion designer in New York City. After becoming engaged to the mayor's son, Andrew Hennings (Patrick Dempsey), Melanie announces that she has to go back home alone to Alabama to tell her parents. She has not told Andrew that she is still married to Jake (Josh Lucas).
Upon arrival in Alabama, Melanie demands a divorce and an explanation as to why, for the last seven years, Jake has returned the divorce papers unsigned. Jake, once again, refuses to sign the papers. Melanie retaliates by emptying out their joint checking account. After following Jake to a local bar, Melanie gets drunk and embarrasses herself in front of her friends, confessing that she had previously been pregnant with Jake's baby. She also reveals that a mutual friend, Bobby Ray, is gay. Jake becomes angry with her and takes her home. When Melanie wakes up the next morning, the divorce papers are lying on her bed and finally signed by Jake.
Soon after, Melanie visits the Carmichael Plantation and tries to apologize to Bobby Ray. Though Bobby Ray accepts the apology, he explicitly tells Melanie that Jake is not the only person she left behind. He expresses the sadness that all her friends have felt after she fled to New York City years ago. Just as Melanie is leaving the plantation, she finds herself cornered by a pushy reporter who claims to be from the New York Post (though in reality, he is the assistant of Andrew's mother) and asks for a tour of the beautiful plantation where Melanie supposedly grew up. Desperately, Melanie tries to sneak back into the mansion. Bobby Ray realizes what is happening, so he pretends to be Melanie's cousin and saves her from embarrassment. That afternoon, Melanie realizes that her friends are kind, caring individuals who never stopped loving her.
Melanie learns from a friend that Jake had once gone to New York City to try and find her because he was still in love. That night, Melanie goes to the cemetery to tell her old dog good-bye. Jake shows up, and they talk about why their marriage did not work which is hinted to be due to the combination of Jake getting Melanie pregnant and her later miscarriage of the baby. Jake wishes Melanie a good life with Andrew, but Melanie says she cannot do it and kisses him. However, Jake pushes her away and tells her to go home.
Andrew arrives in town, looking for Melanie at the Carmichael Plantation, her "supposed" home. Jake meets him and takes him to the field of a Civil War reenactment, where Melanie is saying good-bye to her father. Jake tells Andrew that they are in love with two, very different people. Andrew rebuffs Melanie and leaves.
Melanie returns to her parents' house, where her father walks in with Andrew. Andrew tells her that he does not care about the past and still wants to marry her. They decide to have the wedding in Alabama, and Andrew's mother comes down from New York. Once Melanie's friends from New York arrive, they discover that Jake has become a very successful glassblower with his own company. Melanie is surprised to see what Jake has made out of himself, and it is suddenly clear that he did it all to win her back.
On her wedding day, as she is walking down the aisle, her lawyer interrupts the ceremony and explains that the divorce is still not final because Melanie forgot to sign the divorce papers. Melanie explains to Andrew that she cannot marry him because she still loves Jake. Andrew is gracious, but his mother verbally attacks Melanie and the town. When she insults Melanie's mother, Melanie punches her.
Melanie finds Jake on the same beach, as it was in the film's opening. Melanie tells him that the two are still married, and she wants to be with him. As Jake and Melanie kiss, the town sheriff, Wade, interrupts them explaining that Melanie is wanted because she ran out on a perfectly good cake. Wade takes the pair back to the bar owned by Jake's mother, where all of their friends and family are waiting. During the end credits, we see that the couple is living happily with a daughter.
Cast
Filming
Although centered in the fictionalized town of Pigeon Creek, near a fictional version of Greenville, Alabama, the film was mostly shot in Georgia. The Carmichael Plantation, which Melanie tells the reporter is her childhood home, is the Oak Hill Berry Museum. Oak Hill is a historic landmark in Georgia and is on the campus of Berry College in Mount Berry, Georgia.
The streets and storefronts of Crawfordville, Georgia were used as the backdrop for the Catfish Festival and other downtown scenes. The coonhound cemetery was on Moore Street in Crawfordville, and the bar was located at Heavy's Barbecue near the town. Glass that forms when lightning hits sand, as in the film, is called fulgurite.
The glassblowing shop that belongs to Jake in the film was actually an old mill named Starr's Mill in Fayette County, Georgia. Wynn's Pond in Sharpsburg, Georgia is the actual location where Jake lands his plane. The historic homes that Melanie passes by as she enters Pigeon Creek were shot in Eufaula, Alabama.