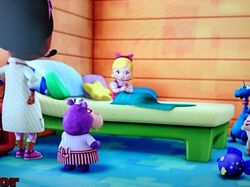 Susie Sunshine is a cute and happy doll from the Disney Junior show Doc McStuffins. She is voiced by Amber Hood. She first appeared in the episode "Tea Party Tantrum", when she was cranky and didn't want to play tea party. Doc takes her to the clinic for a check-up. Susie refuses to do what Doc tells her to do in her check-up in some places, but listens to her tiredly. Doc finds some pineapple ice pop drops stuck in her eyes and wipes them away. Susie is glad but tired, so Doc and her friends put her down for a nap to recharge her. When she wakes up, she happily thanks Doc and plays tea party with her, Lambie and Stuffy.
Appearances
"Tea Party Tantrum" (first appearance)
"Hallie's Happy Birthday"
"Through the Reading Glasses" (cameo)
"Break Dancer" (cameo)
"The Big Storm"
Gallery