Refreshment Corner is a quick-service turn-of-the-century Main Street style restaurant known for its delicious Sunkist products. The store offers 100% unconcentrated orange juice made with size 138 oranges from Yorba Linda that are converted to orange juice with semiautomatic juicers inside the shop. The shop also offers concentrated lemonade and orange cheesecakes from Marcheta's Bakery in Garden Grove.
Yesterland Description
How about a cup of delicious, 100% fresh-squeezed Sunkist orange juice? Or maybe a tall, refreshing lemonade, made with fresh-squeezed Sunkist lemons? If it's a hot day, you might prefer a Sunkist frozen juice bar. You could also order Coffee, rolls, lemon tarts, or cheesecake.
History
Sunkist Citrus House first opened its doors to Disneyland guests in 1960 and lasted for almost thirty years at the park, serving sweet orange juice and lemonade. The restaurant was also a part of Sunkist, presumably in Adventureland. In 1989, however, the shop was removed and replaced by Blue Ribbon Bakery.
Menu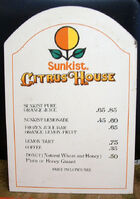 Sunkist Pure Orange Juice
Sunkist Lemonade
Frozen Juice Bar
Lemon Tart
Coffee
Lemon Meringue Pie
Orange Cheesecake
Gallery
Links
Sources
Ad blocker interference detected!
Wikia is a free-to-use site that makes money from advertising. We have a modified experience for viewers using ad blockers

Wikia is not accessible if you've made further modifications. Remove the custom ad blocker rule(s) and the page will load as expected.