Ad blocker interference detected!
Wikia is a free-to-use site that makes money from advertising. We have a modified experience for viewers using ad blockers

Wikia is not accessible if you've made further modifications. Remove the custom ad blocker rule(s) and the page will load as expected.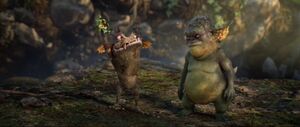 Stuff & Thung is the Bog King's minions of the Dark Forest in the 2015 film Strange Magic. They voiced by Bob Enstein (Stuff), and Peter Stormare (Thang)
Personality
These two curious creatures, they look that makes the Fairy Kingdom, and now they tell Bog King what had happened, about the conduct. Or so they heard that mushrooms looked something new. Stuff are clever and seriously, and Thang are silly and lying in the end of the movie Thang was relvealed to be a girl same is it was a male voice.
Gallery