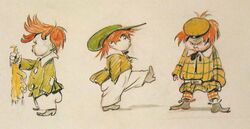 Struebel Peter (also known as Slovenly Peter) was a proposed and unproduced Silly Symphony that was to have been released in 1936.
Plot
This short would have featured Peter, an unruly boy who delights in cruelly tormenting and abusing animals. They, in the end, would have been able to eventually take their revenge on him.
Gallery
Trivia
The character of Peter in this short, resembles the character of Nils Holgersson, in the book The Wonderful Adventures of Nils.