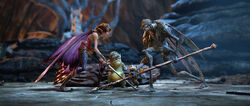 Straight On
is song by the rock band Heart and was covered by
Evan Rachel Wood
and
Alan Cumming
for the film
Strange Magic
.
Lyrics
Quite some time, I been sittin' it out
Didn't take no chances, I was a prisoner of doubt
I knocked down the wailin' wall, it ain't no sin
I, got, the feel of fortune, deal me in

[Chorus]
I'm comin' straight on for you
You made my mind
Now I'm stronger, now I'm comin' through,
Straight on, straight on for you,
Straight on for you

Now, I know, I got to play my hand
What the winner don't know, the gambler understands
My heart keeps playin' it through with you, my friend
I'll take my chances on you, again and again, again

[Chorus]
Ad blocker interference detected!
Wikia is a free-to-use site that makes money from advertising. We have a modified experience for viewers using ad blockers

Wikia is not accessible if you've made further modifications. Remove the custom ad blocker rule(s) and the page will load as expected.