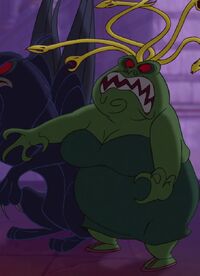 Stheno is a gorgon, the big sister of Medusa and Euryale and an antagonist from the Hercules franchise.
Role
In the film, Hades sends her to kill Hercules together with the Minotaur and the Griffin, but all of the three are defeated by Hercules in less than a second.
In the animated series, she appeared in the episode "Hercules and the Phil Factor". She is voiced by Andrea Martin.
Trivia
This character also appears under the name "Medusa" in tie-in games from the original film. However, the animated series, which distinguishes the two, is considered to take canonical precedent over these.
She also strikes a bearing resemblance to Ursula from The Little Mermaid.
Ad blocker interference detected!
Wikia is a free-to-use site that makes money from advertising. We have a modified experience for viewers using ad blockers

Wikia is not accessible if you've made further modifications. Remove the custom ad blocker rule(s) and the page will load as expected.