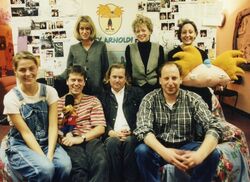 Stephen "Steve" Viksten (July 19, 1960 - June 23, 2014) was an American producer, voice actor, and writer, best known for his work on the Nickelodeon animated series Hey Arnold! His only work for Disney was as a writer for Recess, writing the episode "Kindergarten Derby" and also providing additional dialogue for the episodes "The Experiment", "Officer Mikey", "The Great Jungle Gym Stand Off", "Jinxed", "Swing on Thru to the Other Side", and "Parents' Night".
External links
Ad blocker interference detected!
Wikia is a free-to-use site that makes money from advertising. We have a modified experience for viewers using ad blockers

Wikia is not accessible if you've made further modifications. Remove the custom ad blocker rule(s) and the page will load as expected.