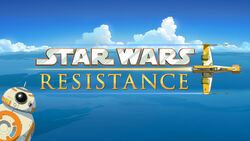 The following is a list of episodes of Star Wars Resistance, listed in the order they originally aired. The series premiered on October 7, 2018 with a one-hour pilot, "The Recruit".
Overview
Season
Episodes
Originally aired
Season premiere
Season finale
1
TBA
October 7, 2018
TBA
Season One (2018)
No. in
Series
No. in
Season
Title
Original Airdate
Production
Code
01-02
01-02
"The Recruit"
October 7, 2018
101/102
Poe and BB-8 assign newly-appointed spy Kaz to the Colossus, a massive aircraft re-fueling platform on an outer rim water planet, home to colorful new aliens, droids and creatures. While undercover, Kaz works as a mechanic and lives with Poe's old friend Yeager, a veteran pilot who operates a starship repair shop run by his crew: Tam, Neeku, and their old battered astromech droid, Bucket. Kaz soon finds himself in over his head with his new friend BB-8 as he will have to compete in dangerous sky races, keep his mission a secret from his newfound family, and avoid the danger of the First Order.
03
03
"The Triple Dark"
October 14, 2018
103
While Kaz struggles to maintain his cover as a mechanic at Colossus, Yeager's shop receives a new customer in the form of the Neimoidian Hallion Nark, who wants the repairs to his ship to be completed before the next "triple dark", a storm that causes low visibility on Castilon. Besides juggling his work as a mechanic and spy, Kaz also has to contend with the Aleena Grevel over debts accumulated during a game of holodarts. The Quarren pirate Kragan Gorr and his gang attack the Colossus during a "triple dark" storm. Kaz manages to drive away the pirates by using a comlink to beam a jammer into their communications systems. At the exposition, it is revealed that Kragan and his pirates are proxies serving the First Order, which hope to use the chaos to establish a foothold at Colossus.
04
04
"Fuel for the Fire"
October 21, 2018
104
Still struggling to fit in as a mechanic at Yeager's repair shop, Kaz is befriended by the young racer Jace Rucklin and his associates. Having gained Kaz's trust after staging a rescue during a swoop bike ocean race, Rucklin convinces Kaz to let him visit Yeager's trophy room under the pretext of seeing Yeager's racer. Rucklin steals a bottle of Corellian hyperfuel for his racer. Upon learning of the theft and the volatile nature of hyperfuel, Kaz saves Rucklin's life but earns the enmity of the young racer and his friends. Despite his unsatisfactory performance, Yeager gives Kaz a second chance because he views him as a good person who saved Rucklin from himself.
05
05
"The High Tower"
October 28, 2018
105
Captain Doza's fuel rationing forces Kaz and the rest of Yeager's team down to Aunt Z's cafe, where Kaz meets Hype Fazon. Hype reveals that the First Order is bringing fuel to Colossus, and Kaz runs outside to watch the First Order's ship as it comes in. Hype then invites Tam, Kaz, and BB-8 to visit the High Tower, and Kaz excitedly agrees, hoping to find out what the First Order is doing on the platform. Using a comm link, he is able to listen in to Major Vonreg's meeting with Doza and discovers the First Order is offering protection from the pirates in exchange for control of the station, however as he leaves Vonreg discovers Kaz's actions. After a daring chase-and an encounter with Doza and his daughter, Torra-Kaz eventually ends up back at Yeager's shop, but not before Doza begins to suspect him as the spy.
06
06
"The Children from Tehar"
November 4, 2018
106
Kaz searches for two missing children for a sizeable reward only to discover the First Order is also hunting for them.
07
07
"Signal from Sector Six"
November 11, 2018
107
When out on a routine training exercise, a distress signal sends Kaz and Poe to a damaged ship with strange lifeforms onboard.
08
08
"Synara's Score"
November 18, 2018
108
On a mission to repair a vital platform defense, Kaz befriends the mysterious Synara and comes under attack by pirates.
09
09
"The Platform Classic"
November 25, 2018
109
An upcoming race reunites Yeager with his estranged brother, Marcus, who needs to win to pay off his debt to a criminal organization.
10
10
"Secrets and Holograms"
December 2, 2018
TBA
When a determined Kaz tries to discover the truth about Captain Doza, he and Torra embark on an adventure where they uncover more about the tower than either bargained for.
11
11
"Station Theta Black"
December 9, 2018
TBA
When Poe and Kaz find an old First Order mining facility, BB-8 discovers that the facility isn't so abandoned.